We are SEKKEI design team.

Glad to provide you with an excellent carrying experience.

"SEKKEI sling bag"

✓Magnetic buckle design: quick opening in one second, quick closing in half a second, special opening method is also anti-theft.

✓Clamshell design of messenger bag: clamshell design, the package makes the appearance of the package unchanged.

✓Two-way expansion function: After the bag becomes bigger and smaller, you can expand it as you like, even suitable for a 13-inch laptop or A4 folder.

✓Hidden pockets: you can put a water bottle or a folding umbrella, and the external design does not occupy bag space.

✓USB charging port: convenient to charge your mobile phone at any time

✓Suitable for 14" laptop (only M Sling): M Sling can put 14" laptop and A4 file after expand.

▲M Sling(Left),S Sling(Right)
▲M Sling(Left),S Sling(Right)
Spec:
S-sling

(Black)
▲S Sling ,Left and right shoulder are fine,Model:177cm,72KG
▲S Sling (small one)
▲S Sling(small one),hidden pocket is suitable for 700cc bottle or umbrella,not occupy inside space
▲S Sling (small one):Capacity can be decrease or expandable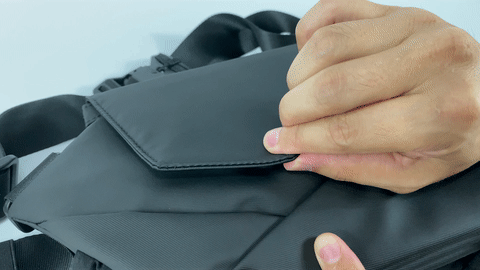 ▲S Sling(small one): Fidlock magnetic buckle, easy to open by one hand.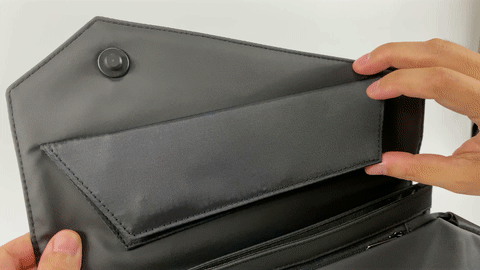 ▲S Sling(small one): magnetic mask pocket.
Product information:


S-sling

(Grey)




M-sling

(black)



Product information:
Upper Cover Magnetic buckle
Magnetic buckle design
Quick open and off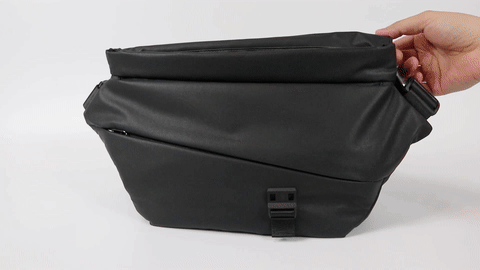 ▲The magnetic buckle can be closed with one hand, and a magnet is sewn inside the front pocket, which allows the lower section of the magnetic buckle to be attached to the package body, making it convenient to close the upper cover quickly.
Anti theift magnetic buckle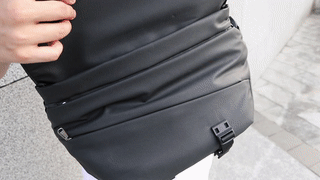 ▲The magnetic buckle has a special opening design. The magnetic buckle must be gently pushed "reversely" to open the magnetic buckle, making the bag anti-theft.
Expandable storage
expandable storage vertically and horizontally.
expandable vertically
▲Adjust the length of the upper cover magnetic buckle webbing, you can adjust the vertical expansion storage.
▲The upper cover adopts a flip-top design, no matter how many packages are packaged, it will not be deformed.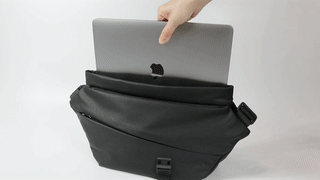 ▲After expansion, suitable for laptop(under 13 inches )/tablet/A4 folders . (Note: The maximum size of the laptop is: 32.5cm * 24cm * 2cm)
Expandable horizontally
▲After expansion, the main mezzanine space in the bag becomes larger, which can accommodate more items.
▲Adjust the metal buckle under the bag to expand or shrink horizontally.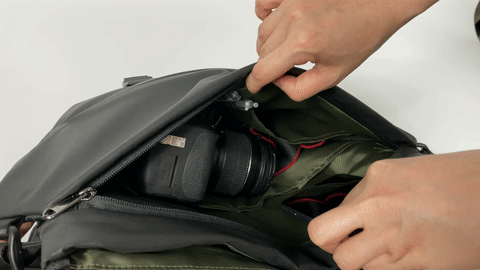 ▲When expend horizontally, a single-lens camera and personal belongings can be storaged.
▲The metal buckle webbing can also be used to fix a tripod or folding umbrella.
USB charging port
The USB charging port is hidden in the mezzanine allows you to charge your phone at any time. The new USB charging port is protected by an upper cover.
▲There is a USB charging port on the right side of the bag.
Hidden pocket
The left and right sides of the bag are designed with hidden pockets, the right pocket can be used for small things, the left pocket can be used for water bottles, and the design of external pockets will not take up the space of the main mezzanine in the bag after the water bottle is placed. It can even be put in a laptop. Can put down the kettle. (Note: The left and right hidden pockets are not connected)
▲Hidden pocket position indication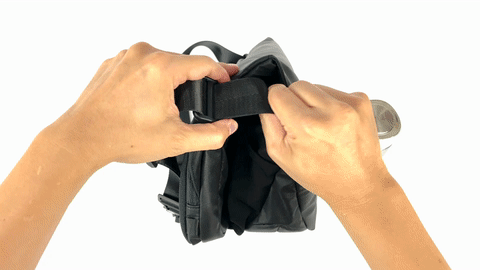 ▲Hidden pocket on the left: you can put a water bottle or a folding umbrella.
▲Hidden pocket on the right: You can put small objects such as tissues for easy access at any time.
Strap magnetic buckle
The strap uses magnetic buckle design, which is convenient and quick to disassemble, and it saves time to switch shoulders.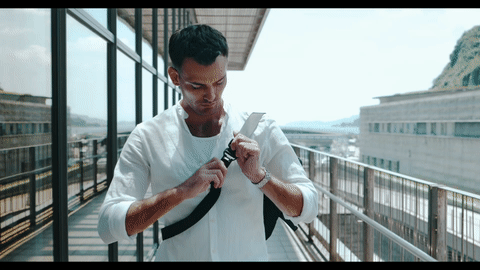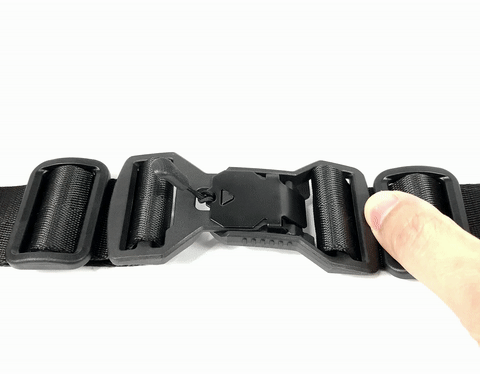 ▲Easy to unlock the magnetic buckle
Retractable keychain
▲Retractable keychain.
rapid retract strap
When you are running, cycling or suddenly need to retrieve something, the quick adjustment function of the strap allows you to quickly adjust the length of the strap.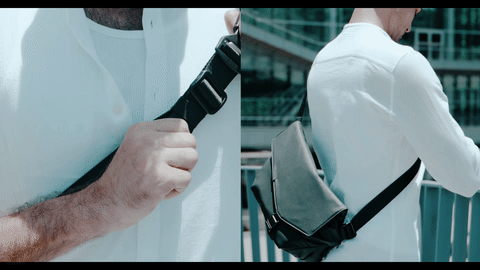 ▲The adjustable range of strap length is 40~146cm, suitable for various heights and body types. (The model above is 180cm /70Kg)
Luggage strap
▲Luggage strap.
Material
The bag is made of high-grade nylon fabric, which increases the durability of the product, and the fabric is water-repellent. The zipper head and zipper teeth are all YKK.
▲Water-repellent are for both black and grey.
▲All zippers are made of YKK. The back of the bag uses a mesh breathable backing to help dissipate heat and increase comfort.
▲Anti-scratch
▲The load is 3 kg, the drop height is 20cm, and the shock test under 400 passes.
▲Design drafts, paper layouts, and prototypes.
three-point fixed strap
We specially designed the "three-point fixed strap", which is convenient for you to use when riding heavy motorcycles, bicycles, or running, so as to prevent the bag from shaking to your chest and affecting your riding or activities.
▲three-point fixed strap
▲How to use "three-point fixed strap"?
More photos
Size and features
Storage demo
▲Storage demo
Black
About

SEKKEI
We are SEKKEI team, a team of bag designers from many countries. The brand SEKKEI is named after the "design" in Japanese. We hope to inject every product with the dedicated spirit of Japanese craftsmen. A paranoid soul who pursues perfection.

The team members have years of experience in design, material selection, proofing, production, and inspection. They hope to bring good designs to people through teamwork. The principle of bag design is to take into account aesthetics and product practicability.

SEKKEI bag is not only a combination of aesthetic design and practicality, but also a good helper for urban life, work and movement.

If you like our design, I hope to join us together, and hope to be accompanied by you to take every step towards the world .